TC52x-HC Touch Mobile Computer
The ultimate feature set for the ultimate in quality of care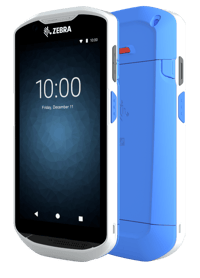 SALES MADE SIMPLE

The TC52x-HC represents the most advanced purpose-built enterprise solution for healthcare. Featuring Zebra technology, software and services, the enterprise TC52x-HC offers the full suite of Mobility DNA solutions that deliver a performance edge and better patient care for clinicians.
Built with medical grade plastics and designed to thrive in healthcare environments, the TC52x-HC mobile computer can perform all tasks, including accessing electronic health records, clinical collaboration, secure texting / messaging and data capture, through one device without compromising on patient privacy or data security.
Designed with healthcare grade materials, the TC52x-HC allows continuous cleaning and disinfecting throughout multiple shifts every day with over 30 cleansers that are used in hospitals today to protect against Healthcare Associated Infections (HAIs). The TC52x-HC is compatible with all TC52-HC accessories.
What's New
A proven platform with the latest mobile technology advancements to meet the challenges of today and tomorrow.
Hot swappable battery for constant power

More advanced SE4720 scan engine

Faster 2.45 GHz processor

Red Healthcare Alert button

Optimized for healthcare data capture with white illumination and green aimer

Universal Flash Storage (UFS) Flash for solid state drive (SSD) performance and speeds

High performance camera with faster focus and better low light performance

Device Tracker with Bluetooth beacon in battery to track devices even when powered down
| | |
| --- | --- |
| Product Page: | Stock & Availability: |
---
WHY SHOULD YOU SELL THE TC52x-HC?
1

The most advanced purpose-built enterprise solution for healthcare.
With the TC52x-HC, we took the proven TC5X-HC platform and made it better. As the third generation in this best-selling series, the TC52x-HC offers an unmatched feature set — from a true hot-swappable battery and best-in-class processing power to a more advanced scan engine, giving you the right device to offer customers transitioning from older platforms (such as TC51-HC, MC40-HC and MC55A0-HC) as well as competitive platforms.

2

Sell them on safety and quality of care.
To meet today's unprecedented healthcare challenges, clinical staff need a mobile computing solution that's purpose built for their workflow. Every aspect of the TC52x-HC has been designed for clinical applications, including: healthcare-friendly white illumination LEDs and green aimer, a best-in-class disinfectant-ready design, an easily accessible red healthcare alert button, built-in tools for capturing UDI codes and blood bag data, and more.

3

Deliver unmatched value with Mobility DNA.
When you sell the TC52x-HC, you are selling a solution, not just a device. Powerful Mobility DNA tools give your customers the industry's most mature suite of Android business and technical solutions, making it easy to get devices up and running, capture and send data to applications, keep devices secure and more. No other competitive product can offer this level of value. And your customers can count on continued innovation over their device's lifespan.

4

The right solution for every opportunity.
Close more deals with Zebra's tiered portfolio, the most complete mobile computer portfolio for healthcare. The enterprise TC52x-HC and TC52-HC are complemented by the TC21-HC, a cost-effective WLAN healthcare mobile computer for non-clinical healthcare workers, and the TC26-HC, a WWAN healthcare mobile computer for clinical and non-clinical healthcare workers. All devices are built on the same Zebra 'ultimate series' platform with a common OS, computing platform, deployment and management tools.

5

Put more money in your pocket.
There's so much more to sell in addition to the TC52x-HC itself. There's a broad range of healthcare accessories — from carrying options to spare batteries, single and multi-slot chargers and cradles, a workstation cradle and more. You can sell Zebra's Workforce Connect voice and messaging solutions to give clinicians the ability to connect, collaborate and coordinate care. And Zebra OneCare® Support Services deliver unmatched technical support and repair services to help ensure predictable performance and uptime.
TARGET END USERS
APPLICATIONS

Nurses
Doctors
Clinical support staff
Therapists
Lab/Pharmacy technicians
Phlebotomists
Nutritionists
Patient transport
Medical assistants

PBX calls and push-to-talk (PTT)
Secure text messaging
Mobile alarms and alerts
Medication administration
Prescription tracking
Blood transfusion administration
Electronic patient record access
Breast milk management
Inventory management