TC21 / TC26 Touch Computer
THE ULTIMATE COST-EFFECTIVE TOUCH COMPUTER BUILT FOR SMALL AND MEDIUM BUSINESS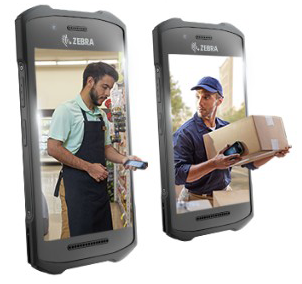 SALES MADE SIMPLE
If your small or medium business customers are considering cell phones for their workers, the competitively priced TC21 / TC26 offers a better solution. For the price of a low-cost mobile phone, your customers get all the right business features needed to improve workforce productivity and task accuracy, reduce total cost of ownership and increase return on investment.
WHY SHOULD YOU SELL THE TC21/TC26?

No more losing deals to a smartphone.
Are you losing deals with small businesses and/or Tier 1 accounts to line of business smartphones? Not anymore. The WLAN TC21 and WLAN/WWAN TC26 offer the features your customers need and much more, all for the price of a low-cost mobile phone, including: best-in-class scanning options, enterprise-class wireless and voice functionality, a removable battery for around-the-clock use, Zebra's powerful 'ultimate series' platform, Mobility DNA and more.


---


Find the right match every time.
The TC21/TC26 offers more options than any device in its class, so you can create a solution that's just right for your customer's application needs and budget. In addition to WWAN/WLAN and WLAN only models, devices can be customized for the right level of scanning: scan-intensive, light to moderate or none/occasional. You can pick standard or extended batteries; choose the right amount of RAM/Flash memory; create a wearable solution and more.


---


Deliver unmatched value with Mobility DNA.
The TC21/TC26 provides a complete solution —with a breadth and depth of software solutions you won't find in any other device in this class. Many powerful complimentary Mobility DNA tools are pre-loaded, making it easy to get devices up and running, capture and send data to applications, keep devices secure and more. The optional Mobility DNA Enterprise License unlocks additional tools to take workforce productivity to the next level and make it even easier to secure and manage large deployments..


---


Data capture options for every worker.
When you sell the TC21/TC26, you can give customers a choice of two optional enterprise-class scan engines for the lightning fast capture of virtually any 1D/2D barcode — regardless of condition. For scan-intensive 1D/2D applications, the SE4710 offers faster-than-ever barcode capture. For light to moderate 1D/2D scanning, choose the SE4100. And if your customer just needs every-now-and-then barcode capture, the high resolution 13 MP camera in the base model can do the job.


---


Put more money in your pocket.
There's so much more to sell in addition to the TC21/TC26 itself. There's a broad range of accessories — from carrying and wearable options to single and multi-slot chargers and cradles. Sell the Mobility DNA Enterprise License to unlock powerful voice tools including full duplex support — and data tools that simplify device use, device management and device security. Zebra OneCare SV offers the right level of service at the right price. You help your customer maximize the value of the TC21/TC26, and you increase the size of the sale.

TC21 / TC26 Overview Video