The Dependable Tablet Created for the Workers the World Depends On
With You. For You. For Them
Every day, we depend on the many workers who protect our community, maintain critical infrastructures and make the products we rely on. First responders, utility field service teams and manufacturing production line workers are essential to our way of life. They need a tablet tailored for the essential work they perform—and the ET80/ET85 delivers.
Have you got your
ET80 / ET85 demo unit yet?
CLAIM YOUR DISCOUNT TODAY!
WHY SHOULD YOU SELL THE ET80 / ET85?

Tap into the growing 2-in-1 market.
The 2-in-1 market is growing faster than both notebooks and slate tablets and represents a $300M TAM global market expansion for Zebra partners. The development of the ET80/ET85 was driven by comprehensive research into the rugged 2-in-1 needs for critical field services, utilities, fire/EMS and law enforcement. When you sell the ET80/ET85, you can be confident that you're selling a solution that will meet your customer's needs without compromise and exceed the competition where it counts the most.

---


Built for work, not a workout.
Give your customers what they're looking for: a rugged 2-in-1 that's truly easy to carry. The ET80/ET85 is greater than 35% thinner and 20% lighter than major 2-in-1 competitors with the same screen size — making it easy to grab and go. At the same time, the ET80/ET85 is rugged and ready to handle the elements. It's tested to the latest MIL-STD-810H spec and is IP65 sealed, even with its ports open. Your customers will get a device they can trust in the most unforgiving roles and environments.

---


Future-proofing that sells itself.
Your customers are investing in a device that will serve them for years. The ET80/ET85 is the most advanced 2-in-1 tablet in its class, capable of handling today and tomorrow's demanding applications with ease. It supports the fastest wireless networks with WiFi 6E and options for 4G or 5G, plus CBRS1 private broadband network support. Intel's 11th generation processors provide a generational leap in performance. And if customers just need a 12 in. tablet today, they can buy the tablet, then add the rugged keyboard at any time.

---


Increase the size of every deal.
There's so much more to sell than just the tablet itself. For example, pair the ET80/ET85 with the universal docking solution that works in vehicles and forklifts or as a desktop computer in the office. Sell the integrated barcode scanner and Workforce Connect's enterprise-class PTT and text messaging features. Add a rugged boot to improve durability. The 4-slot battery charger makes backroom management easier. Two expansion back options add functionality, including an auxiliary secondary battery slot for double-shift power.

---


Provide more value with select Mobility and DataCapture DNA tools.
With the ET80/ET85, your customers get all the security, manageability and compatibility of Windows 10 — with the added value of select Zebra Mobility DNA and DataCapture DNA tools. That means they can deploy enterprise-class PTT and secure text messaging to make their teams even tighter. They can monitor battery health to make sure workers have battery power they can count on, every shift, every day. And they can easily configure the scanners in tablets to get them up and running quickly.
Target Markets

Government/Public Safety
Routing/dispatch

Personnel tracking

Incident reporting

Patient care reporting

E-Citation

And more...
Utilities/Field Service
Routing/dispatch

Personnel tracking

Emergency repairs

Mobile work order management

Safety inspection/compliance

And more...
Manufacturing
Plant management

Mobile HMI

PLC programming

Forklift operations

Clean room, pharma and more
Why ET80/ET85?



Sleek, portable and built to help you do the most -

on the plant floor, in a vehicle and in the field – for those who depend on you

A rugged 2-in-1 tablet that's flexible and powerful with advanced wireless connectivity to help you take on whatever your day holds
Tailored to work the way you work best with a touchscreen, keyboard or both to capture information and input data anywhere
ORDER NOW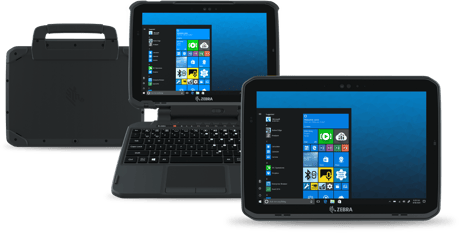 Don't miss out on this time limited offer!

To create your personalised voucher(s) for this promotion, simply visit the Demo and Promotions Portal, then use them when you order from BlueStar*.
Create your voucher(s) NOW OFFER ENDS 30.06.2022
Committed to You. Committed to the Future

Class-Leading Hardware
Zebra's PartnerConnect program offers reseller
partners access to:

Marketing Support

Sales Resources


A Global Channel Ecosystem


Certification and Training


Technical Resources

Value-Added Distribution
BlueStar is Zebra's top distribution partner and provides
resellers with:

Financing Options

Drop Shipping Direct to End Users


Custom Configuration Services


End-User Lead Generation Program


Dedicated Zebra Biz Dev Team