New Zebra ET40/ET45 Enterprise Tablets
EVERYTHING YOU NEED TO DO BUSINESS RIGHT, AT THE RIGHT PRICE
Why "good enough" isn't good enough
Meet the perfect replacement to consumer-grade tablets — the ET40/ET45 enterprise rugged tablets. Offer your customers everything their workers need to do business better and faster right out of the box, in a durable device built to last — all at the right price.
Introducing the ET40 and ET45, the right-priced enterprise tablets that are built for business. Take worker productivity to the next level with the optional Mobility DNA Enterprise toolkit by making data capture easier than ever. The ET40/ET45 Enterprise Tablets — everything you need to do business right, at the right price.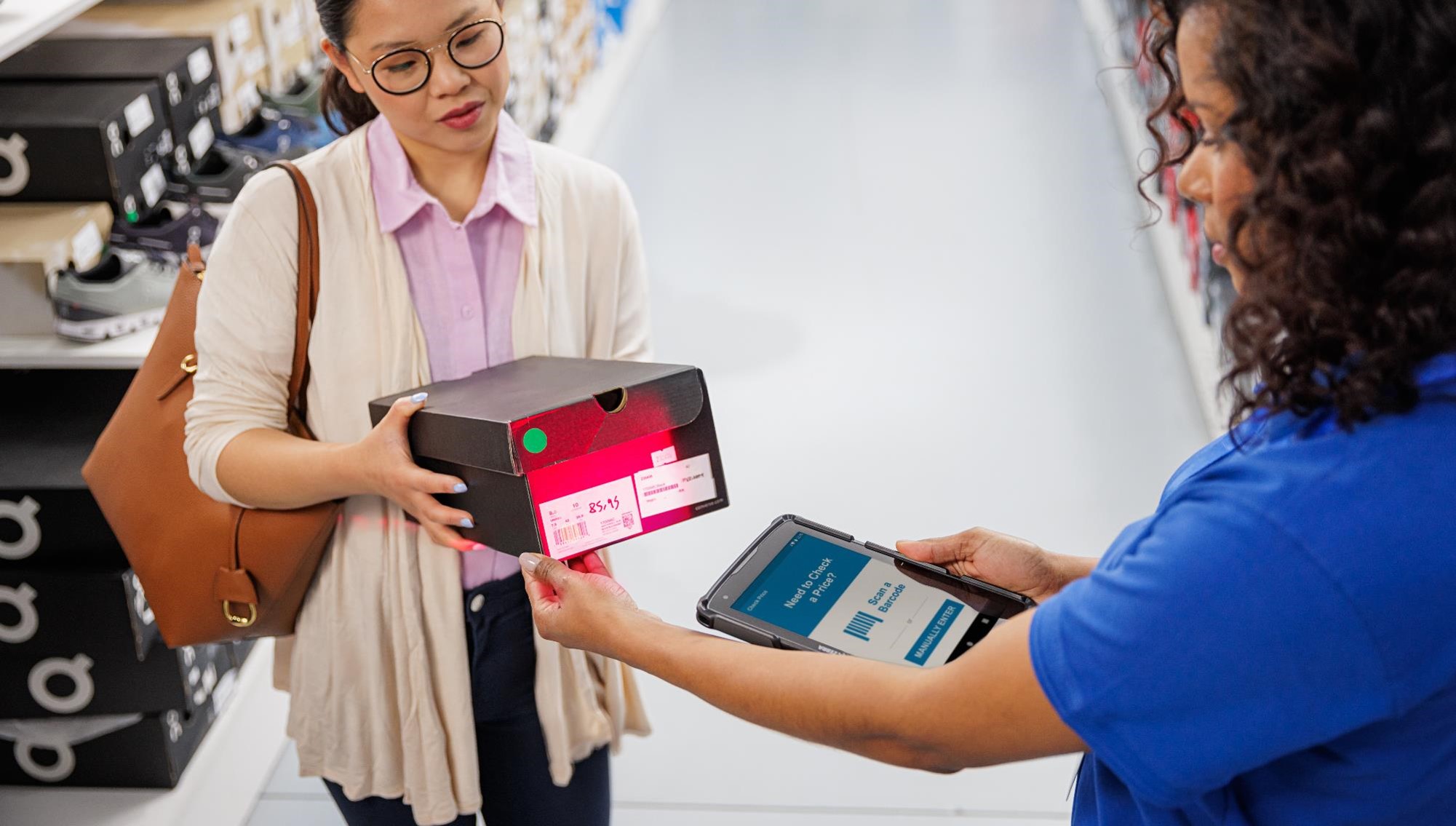 WHY SHOULD YOU SELL THE ET40/ET45?

Win against consumer tablets.
Customers might be tempted by the low upfront cost of a consumer tablet, but it's easy to prove that the ET40 and ET45 Enterprise Tablets make more business sense. Purpose-built for the enterprise, these tablets offer businesses what they need, right out of the box. Integrated scanning means there's no need to buy a separate scanning sled or license software. With a rugged design, it's not imperative to buy a protective case. A multi-year lifecycle and enterprise-support simplify management. And more.


---


Deliver world class data capture — right out of the box.
The ET40 and ET45 give customers a choice of integrated Zebra scan engines — from standard range scanning to a large 'sweet spot' for pointand- shoot simplicity or an advanced range scanner to capture items in hand and across the room. Customers don't need to buy a separate scanning sled that can increase weight by more than 50% or license third-party software. And with Zebra's industry-leading technology, workers can capture barcodes in practically any condition — faded, damaged, under frost and more.


---


Increase the size of every deal.
There's much more to sell in addition to the tablets. Accessories include carrying options, a rugged case and single and multi-slot chargers and cradles. Zebra's Workstation cradle turns the tablets into a workstation on demand. The Presentation stand makes it easy to create a kiosk for self check-in. Add a Point of Sale hub to the Presentation stand to create an on-demand hybrid POS, allowing associates to ring up purchases the moment a buying decision is made — or linebust to prevent long wait times and lost sales.


---


Deliver value no other competitive tablet offers.
Mobility DNA Professional provides powerful complimentary tools that make every aspect of owning these tablets easier. Upsell customers to the Mobility DNA Enterprise License to unlock more tools that boost workforce efficiency and simplify the user experience. Additional optional proven software solutions greatly improve collaboration and team efficiency: Push-to-Talk (PTT) Express for PTT calls inside facilities; Workforce Connect PTT Pro for PTT anywhere and secure messaging; and Workforce Connect Voice to turn tablets into PBX handsets.


---


Enhance every stage of the device lifecycle.
With Zebra, you'll be able to deliver value at every stage of the lifecycle with offerings that consumer tablets just can't match. A multi-year device lifecycle offers the predictability needed in the enterprise — and support is available for six years from the initial sale date, ensuring coverage every day the tablets are in use. Zebra OneCare Essential and Select maintenance plans offer the industry's gold standard of support. And flexible options let customers customize plans with Battery Refresh service, expedited shipping, VISIBILITYIQ™ Foresight and more.

Markets




Retail/Hospitality
Assisted selling

Inventory management

Guest check-in

Point of sale

Line busting

T&L (delivery/fulfillment)
Routing and dispatch

Invoicing/Mobile POS

Parcel track and trace

Staff Comunications

Proof of pickup and delivery
The right priced rugged tablets that have it all right out of the box…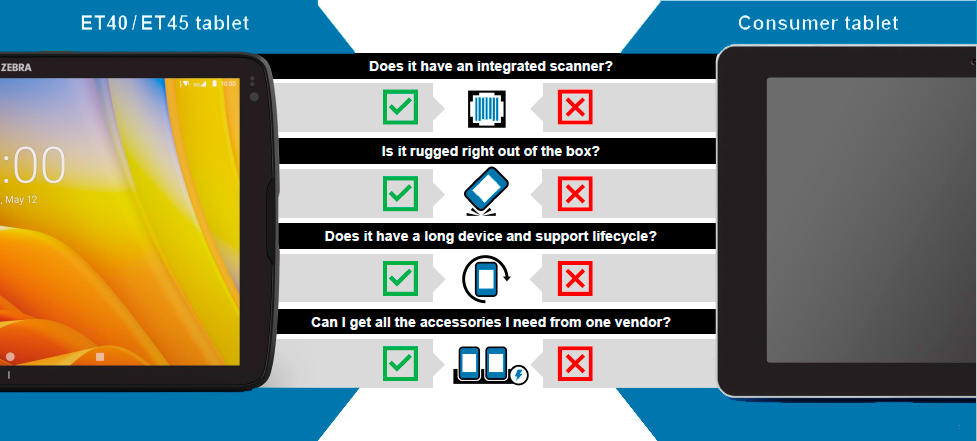 Committed to You. Committed to the Future

Class-Leading Hardware
Zebra's PartnerConnect program offers reseller
partners access to:

Marketing Support

Sales Resources


A Global Channel Ecosystem


Certification and Training


Technical Resources

Value-Added Distribution
BlueStar is Zebra's top distribution partner and
provides resellers with:

Financing Options

Drop Shipping Direct to End Users


Custom Configuration Services


End-User Lead Generation Program


Dedicated Zebra Biz Dev Team